December 8, 2019
Inland Ports - River Dnieper, Ukraine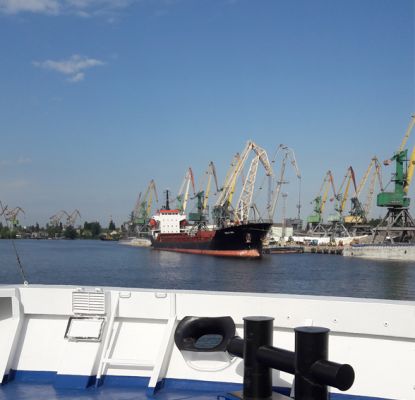 In this series of inland ports we have now come to No. 7, where I will present three fantastic ports on the River Dnieper in Ukraine.
Dnieper is the fourth longest river in Europe. It is 2200km long. Only the Volga, Danube and Ural Rivers are longer. The river rises in the slopes of the Valdai Hills, west of Moscow, flows through Belarus and Ukraine, and ends in the Dnieper Estuary of the Black Sea.
The river consists of three parts. The upper part is swampy, 1300km down to Kiev, the capital of Ukraine. This region is very special to me, because it was first explored by the Vikings, finding their way down the River Dnieper to the Black Sea, following the coast of today's Romania and Bulgaria to Istanbul (then Constantinople), where there were lots of riches they were after.
On their way they founded the city of Kiev, ca. 800. It was a Viking settlement until ca. 1100. That is why you even today can see that people in Kiev and Ukraine look very much like Scandinavian people.
South of Kiev is a forest/steppe region for ca. 550km. The third and southern region is lowland, semi-arid for 320km, and it is in this region you have the three great inland ports I will tell you about.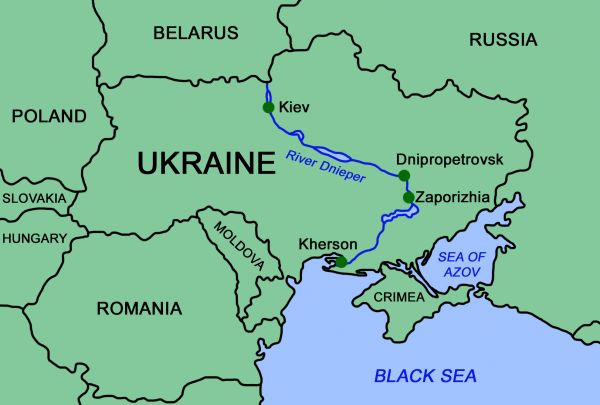 In the River Dnieper you have 60 species of fish, and the river is navigable for 10 months of the year. For two months it is frozen. The construction of dams and reservoirs has deepened the river and facilitated navigation for about 1677km.
I know many of the great rivers on Earth, and they are all fantastic, but Dnieper is sort of the river of rivers. To explain that is not easy, but the big difference is that it doesn't look like a river in many areas. The river is so wide in many parts that it is like travelling on lakes. That is not an unusual phenomenon, and can be found in several places. But here on Dnieper it sort of goes on and on, only sometimes forming an appearance of what a river usually looks like.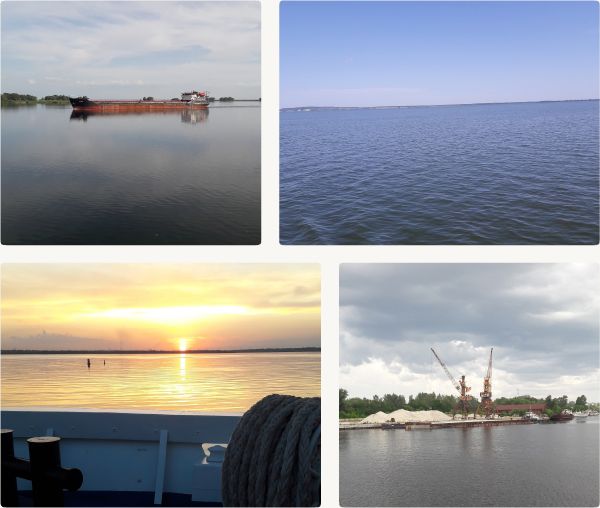 The first port you reach coming downriver from Kiev is the river port of Dnipropetrovsk. Coming down the beautiful river, it's amazing to see the harbour cranes and beautiful river port. Located on the left bank of the Dnieper, Dnipropetrovsk was formerly known as Ekaterinoslav until 1925.
Like many other rivers, the Dnieper has been considerably widened to cater for ships in an effective way. The port is easy to reach and plays a big role in the development of Dnipropetrovsk into a major industrial centre of Ukraine. It has many facilities and factories for industries to produce a wide range of products, including cast iron, launch vehicles, metal products, pipes, various machinery, equipment for the agricultural industry, as well as tractors and farming machinery. In short, it is a heavily industrialised city.
There are many beautiful bridges linking the left and right banks. Walking into the city from the terminal of the Dnieper river I especially enjoyed coming to Academic Yavornitzky Prospekt, Dnipropetrovsk's central avenue. There is a beautiful pedestrian walkway where you meet the people of Dnipropetrovsk in various venues. Today Dnipropetrovsk has a population of about 1 million, and is 391km from Kiev. Leaving Dnipropetrovsk when the sun sets on the Dnieper river is a memory that stays with you forever.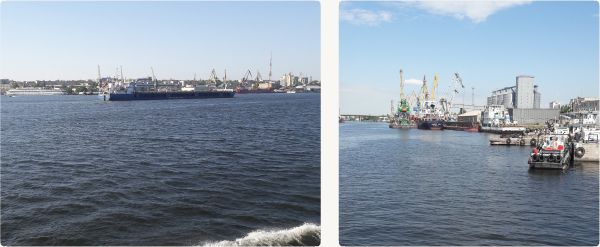 Continuing further south on the Dnieper river you reach the next great port, the river port of Zaporizhia. As in many rivers, it is not always easy to cater to ships. A lot of work has been done to remove difficult rapids, which was successful, giving the port opportunity to grow.
When you reach Zaporizhia you see an island in the river, named Khoritza. I found this island especially interesting, because once upon a time, ca. 1780, people from Danzig, today's Poland, went there to settle upon a suggestion from Catherine the Great. They settled there and built mills and agricultural factories in the region as well. Later on during the Russian revolution and especially during World War II, they had to flee to eastern Russia, even into today's China, mingling with other German refugees from the Volga region etc. These people can still be seen in China's minority people.
The city is home to the Ukraine main automobile production centre. After the Russian revolution it has been an industrial centre, and the deposits of minerals like coal and iron ore make favourable conditions for large scale enterprises. The port is a very important place for trans-shipment. As I love cranes with wire, with Ferryl 202 on them especially, it's a great port to reach seeing the cranes along the river.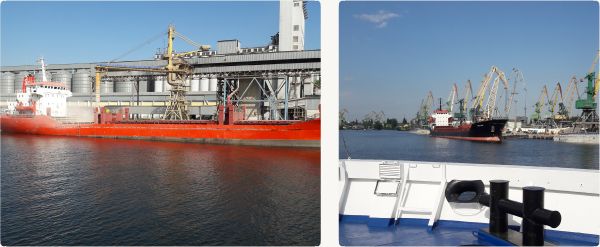 Leaving Zaporizhia in the evening, when everything was calm and the sun slowly setting, was great – going closer to the delta of the third great river port on Dnieper: Kherson.
For many years Kherson belonged to the Crimea. The name Kherson is interesting because it comes from Greece. It was once a Greek colony, founded approximately 2500 years ago, and Kherson is a contraction of Chersonesus. One of the first buildings was a fort and a church.
Kherson is close to the wide and beautiful delta of Dnieper. Kherson has a population of ca. 250,000, and is home to a major shipbuilding industry. For not being such a big city, the river port is substantial. I personally like to walk in the city and locate the towers. Kherson has its own TV tower, which is a famous construction for Kherson. It is also famous for a lighthouse, Adziogol Lighthouse, with a special format and structure for a lighthouse, and built already 1911. Having been to maritime school in my former home town of Malmö, Sweden, I enjoyed touring Kherson marine school. Kherson is a very enjoyable and pleasant shipping city, maybe especially because you have the delta and the Black Sea close by, giving it a special feeling for shipping people. Continuing down through the delta into the Black Sea is amazing.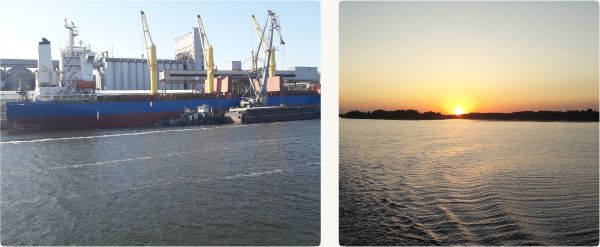 The river Dnieper is an amazing waterway, which I have tried to show to you a little, presenting these three ports, Dnipropetrovsk, Zaporizhia and Kherson, to you. I took many beautiful photos during my trip along the river. I hope you enjoy my photos and story.