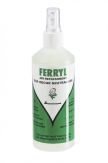 Ferryl Air-Refreshment Bad Odour Neutraliser
Maintenance , Other
An air-refreshment liquid chemically neutralising bacteria in the air, removing bad odours and leaving a fresh scent.
Main applications:

Bathrooms


Cargo Holds


Storage Rooms
---
Properties
Actively removes bad odours.
Neutralises bacteria in the air.
Fresh, neutral scent.
Non-Toxic.
Non-Flammable.
Non-Aerosol.
Applied by spraying evenly into the air.
Supplied in 25L plastic drum or 500ml plastic spray bottle, individually or in packs of 10.
---
Applications
| | | |
| --- | --- | --- |
| Cabins | Cargo Holds | Garbage-Disposal Areas |
| Galleys | Bridge | Fishing Vessels |
| Bathrooms | Mildew | Processing Facilities |
| Toilets | Storage Rooms | Factories |
| Cigarette Smoke | Messrooms | Animal Smells |