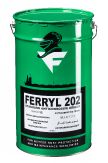 Ferryl 202 Standard Anticorrosive Grease
Grease / Oil , Wire Treatment
A wire-rope grease providing ultimate rust protection and lubrication to extend wire-life and efficiency.
Main applications:

Mooring Wires


Crane Wires


Ramp Wires
---
Properties
Penetration: Protection of entire wire through penetration into wire core
High Melting Point: For use in extreme climates and temperatures well below freezing
Rust Inhibitors: Chemically active for ultimate rust protection
Rubberised Binders: Ensures excellent adhesion to the wire
Semi-Drying Film: Protective layer prevents penetration of moisture - flexibility without cracking
Lubrication: Protects against deterioration and wear - easy running of rigging
Can be applied by brush, glove or wire-lubricator.
Supplied in 25kg metal drum or 900g tin.
---
Applications
| | | |
| --- | --- | --- |
| Winches | Shackles | Hatchcover Wheels |
| Mooring Wires | Backsprings | Valves |
| Lifeboat Falls | Tankcover-Screws | Bearings |
| Derricks | Hoists | Screws & Bolts |
| Open Gears | Lashings | and More |