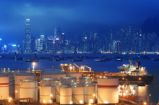 Ferryl is happy to announce a new stock-point for the Ferryl Anticorrosive Products with Fuji in Hong Kong. One of the more recent additions to the Fuji ship supply network, the Hong Kong branch will become the latest addition to the Ferryl supply network, stocking Ferryl products as of July, 2014.

Ferryl's famous grease is called Ferryl 202, so we at Ferryl are always on the lookout for the number "202". Where have you seen "202" lately? We spotted "202" in Taipei, Taiwan!

Read about the ports of Galveston and Houston, Texas U.S.A., in this article written by Ferryl Sales Limited's director. Check back soon for new instalments in the series: Ports of World - From Sailor to Saleswork.

Visit us at the IMPA Exhibition 2014 in London!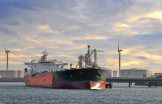 The conditions to which a steel mooring wire at sea is exposed to are unique. Even looking at general greasing needs of a vessel, the requirements for mooring wires stand out. Exposed to the elements, the grease has to withstand water submersion, handling, varying temperatures and bad weather, all whilst protecting against rust and lubricating the wire.