Visit us at the Baltexpo Exhibition 2017 in Gdansk, Poland!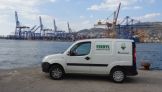 A recent trial of Ferryl Ferrycid Rustremover by Ferryl's agent in Greece, Oceantech, shows two of Ferryl's strengths: effective products and an excellent service network.

Ferryl's famous grease is called Ferryl 202, so we at Ferryl are always on the lookout for the number "202". Where have you seen "202" lately? We spotted "202" around the English Channel!

Read about the port of Cape Town, South Africa, in this article written by Ferryl Sales Limited's director. Check back soon for new instalments in the series: Ports of World - From Sailor to Saleswork.
Have you considered how special inland ports are? In an exclusive online series, Ferryl's director will explore fantastic inland ports around the world! In this instalment, read about Manaus, Brazil.