Make sure to visit Seldis and Ferryl at the SMM exhibition in Hamburg, Germany!

Ferryl reports back on the Posidonia exhibition, held in Athens from the 4th to 8th of June. Ferryl was delighted to exhibit with their Greek agent Oceantech.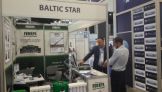 From the 11th to 13th of September, Ferryl exhibited at the Baltexpo Exhibition in Gdansk, Poland.

Visit us at the Baltexpo Exhibition 2017 in Gdansk, Poland!


Representatives from Ferryl attended the MTB Marine Asia Event in Bali, Indonesia, from 19th-22nd of April. What was clear from the meetings: many companies not using Ferryl are experiencing issues with wire rope maintenance.