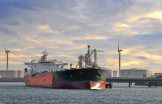 The conditions to which a steel mooring wire at sea is exposed to are unique. Even looking at general greasing needs of a vessel, the requirements for mooring wires stand out. Exposed to the elements, the grease has to withstand water submersion, handling, varying temperatures and bad weather, all whilst protecting against rust and lubricating the wire.


Ferryl's famous grease is called Ferryl 202, so we at Ferryl are always on the lookout for the number "202". Where have you seen "202" lately? We spotted "202" in Dubai, United Arab Emirates!

Read about the port of Kaohsiung, Taiwan, in this article written by Ferryl Sales Limited's director. Check back soon for new instalments in the series: Ports of World - From Sailor to Saleswork.

Philip O'Mara contacted Ferryl looking for a product for rust protection of standing rigging on his vessel. Should he try Ferryl 202 White Anticorrosive Grease? No, Ferryl suggested Ferryl 400R. A white, one-component coating applied like paint, Ferryl 400R's plasticity means that it remains flexible, ideal for standing rigging, stay cables or non-moving wires.
Ferryl is happy to introduce a new cooperation with Altham Ship Stores, whereby as of early 2013, Altham is Ferryl's official agent and stockist. With a wide range of Ferryl greases, oils and maintenance products now on stock, Altham cover supply throughout the U.K. but focus on ship and offshore supply from their head office in Heysham.