If left unprotected the inner parts of a wire can rust, causing it to deteriorate from the inside, even if coated with a quality grease on the surface. This can be avoided by ensuring the wire core is given anticorrosive protection. Ferryl 101 is a liquid product with an excellent ability to penetrate into the wire, preventing rust in the wire-core.

On the Isles of Scilly the Inshore Fisheries and Conservation Authority (IFCA) have used Ferryl coatings on an underwater camera array system, with excellent results. The new camera system deployed by the IFCA utilises a "flying camera methodology", allowing study of sea-bed habitats and biological distribution in a non-destructive way.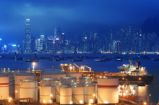 Ferryl is happy to announce a new stock-point for the Ferryl Anticorrosive Products with Fuji in Hong Kong. One of the more recent additions to the Fuji ship supply network, the Hong Kong branch will become the latest addition to the Ferryl supply network, stocking Ferryl products as of July, 2014.

Ferryl's famous grease is called Ferryl 202, so we at Ferryl are always on the lookout for the number "202". Where have you seen "202" lately? We spotted "202" in Taipei, Taiwan!

Read about the ports of Galveston and Houston, Texas U.S.A., in this article written by Ferryl Sales Limited's director. Check back soon for new instalments in the series: Ports of World - From Sailor to Saleswork.