June 20, 2018
Ferryl Exhibits at Posidonia with Agent Oceantech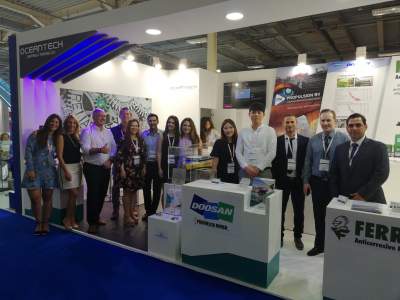 From the 4th to 8th of June, Athens hosted the Posidonia exhibition. Ferryl was delighted to exhibit with their Greek agent Oceantech.
The exhibition was a success for Oceantech and Ferryl, giving existing customers a chance to catch up with Ferryl.
At the same time, new customers could see samples of products to see and hear how they can benefit their vessels.
With a relentless drive to grow and improve, when asked how the exhibition went, Anastasios Mylonas of Oceantech acknowledged that it went well, but insisted that next time will be bigger and better!
Ferryl sales to Greek vessels is growing, an effort headed by Ferryl Product Manager Christos Rigopolous, whose enthusiasm for the Ferryl products is quite contagious.
The exhibition boasted over 2000 exhibitors from 92 countries. As a major player in the global shipping industry, Greece tops the list of ship-owning nations.