December 1, 2017
Ferryl in Lithuania and Latvia with Baltmarine
Ferryl has expanded in Latvia and Lithuania with their agent Baltmarine Trading UAB.
Baltmarine offer supply and sales service of Ferryl products in all ports in Lithuania and Latvia, including Klaipeda, Ventspils, Riga and Liepaja.
Established in 2004, Baltmarine's headquarters lie in Klaipeda – a major port city in Lithuania, situated on the Baltic Sea coast and one of few ice-free ports in Northern Europe. With container, bulk freight, ferry and cruise traffic, it is Lithuania's largest port.
In October, Ferryl was pleased to visit the Baltmarine teams both in Klaipeda and in Riga. Having met with the entire team, Ferryl can now ensure the Baltmarine team is well informed about Ferryl products. After product demonstration meetings at Baltmarine's offices, Ferryl met with several clients in the region with Baltmarine Director, Mr. Raimondas Strašinskas, and Manager of the Riga office, Ms. Elena Romanova.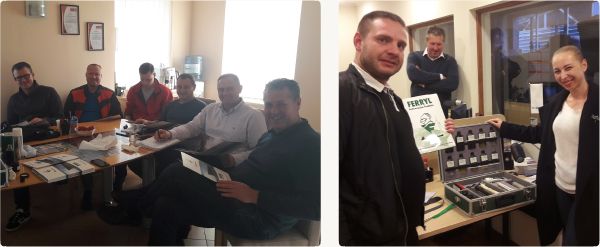 Using Ferryl's product samples case, Ferryl could show clients samples of all products so they could see the benefits from using Ferryl as well as understand the application areas themselves.
The main advantage of Ferryl's sample case is that customers get to see the products. One might think that grease is just grease but when it comes to Ferryl, you can really see the difference.
Given the chance to touch samples, the special properties of the greases become clear. You see the rubberized binders that ensure excellent adhesion of Ferryl 202 Standard Anticorrosive Grease to wires, or the thin but resistant layer created by Ferryl 202 Aluminium Anticorrosive Grease, applied on lashings.