June 25, 2015
Because Wire-Rope Pre-Treatment Matters: Ferryl Rustoil Penetrating Oil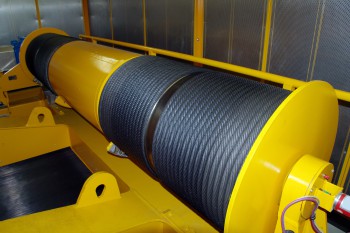 Ferryl is famous for '202' – the name of our wire-rope greases. But putting a high quality grease on a wire in bad condition is like painting over rust – the problem remains just beneath the attractive surface.
Ferryl Rustoil Penetrating Oil is the best treatment for wires that are not in optimal condition. Part of Ferryl's range since the early days, Ferryl Rustoil has seen regular improvements and re-formulations over the years and is today as popular as ever.
So how does the product work? Because of its low viscosity, Ferryl Rustoil easily penetrates into the wire core when poured, swabbed or sprayed onto the wire. The product loosens rust and old grease/oil whilst removing and displacing any moisture on or in the wire. This prevents future corrosion of the wire and reduces the risk of encapsulating moisture. Ferryl Rustoil leaves behind a thin, rust-protective and lubricating coating to protect the wire from future damage and wear. After pre-treatment with Ferryl Rustoil, the wire can be coated with Ferryl's wire-rope greases, such as Ferryl 202 Standard Anticorrosive Grease.
Using Ferryl Rustoil also improves safety on board. A rusty wire can break, causing serious damage to cargo, equipment and crew. Because safety is so important, it makes sense to invest the minimal cost and time needed to apply Ferryl Rustoil. Ideal as a multi-purpose lubricant, Ferryl Rustoil is also often used to loosen rusted nuts and bolts or to lubricate chains and hinges.
Packaging That Meets Needs
A quick glance at early packaging of Ferryl Rustoil reveals major developments over the years. From a canister with small volume, the product is today supplied in a clean, easy-to-handle 10L drum, with Ferryl's iconic green colour. Why the drastic change?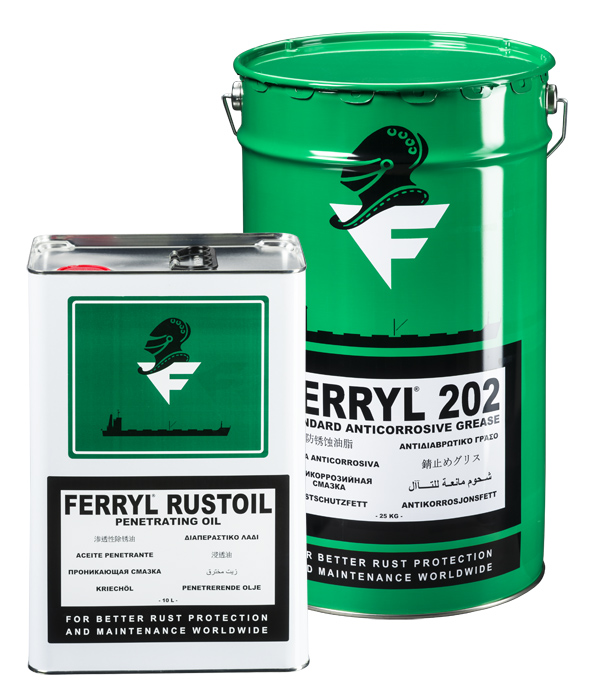 The point is to meet consumer needs and to ensure that Ferryl Rustoil fits perfectly into Ferryl's range. The major application is not screws or bolts (even though it is highly effective for this also!) but wire-rope treatment.
A 10L drum is the best size of packaging to make Ferryl Rustoil ideally suited for this primary application area of wire-rope pre-treatment.
Safety on board is a major issue today and many ships need to avoid aerosol containers. And yet, many products are still supplied as aerosols, and often with spray apparatus. Ferryl's 10L drum is not only safer and hassle-free, but also more economical. Packaging is of high quality but also nothing more than needed.
The benefits of cost-effective packaging are passed on to customers in the form of a great price. Ferryl Rustoil is easily transferred to spraying apparatus on board as needed. This makes Ferryl Rustoil the ideal product to be used as part of Ferryl's wire-treatment program.